8 Day Kimberley Camping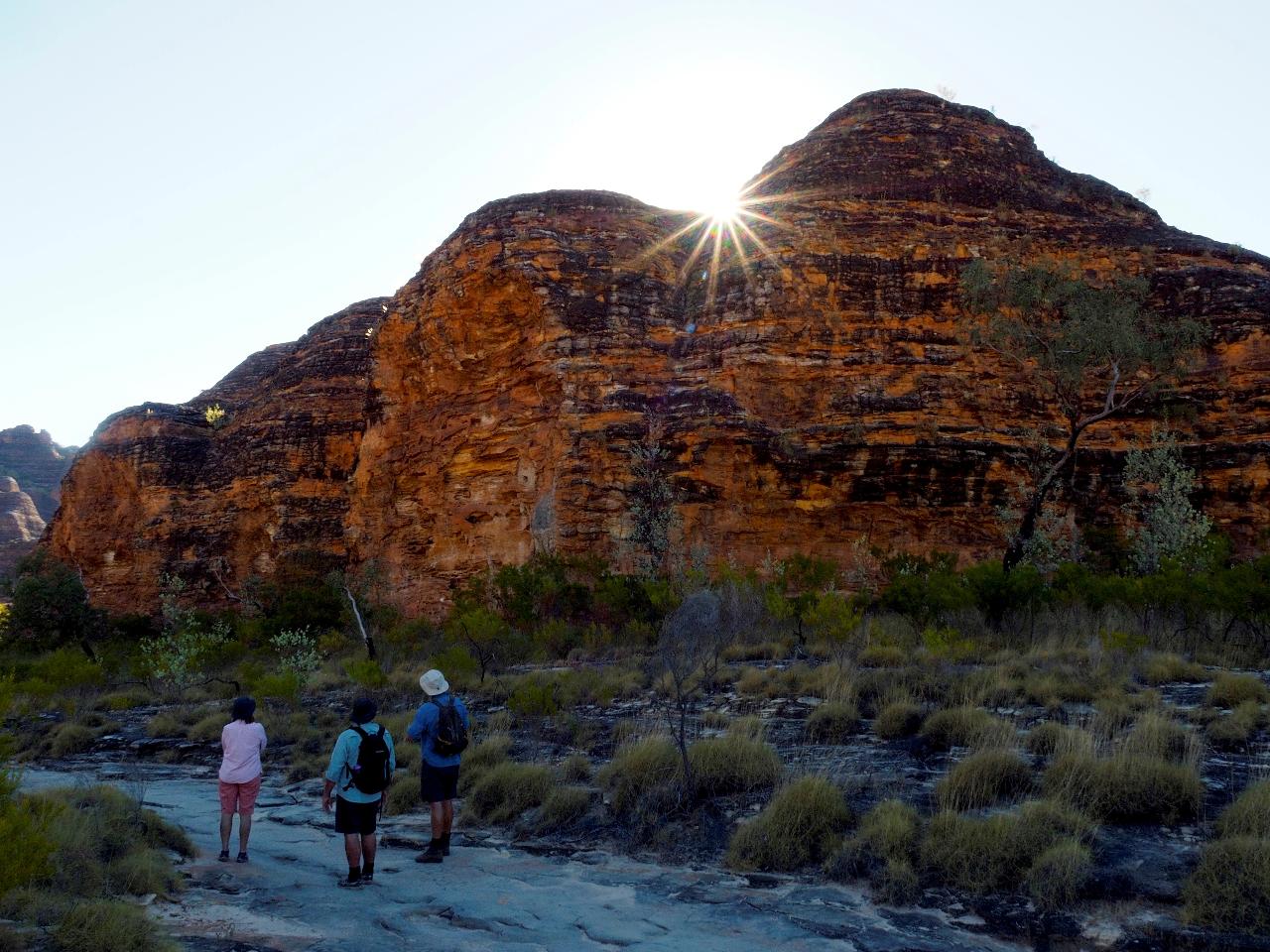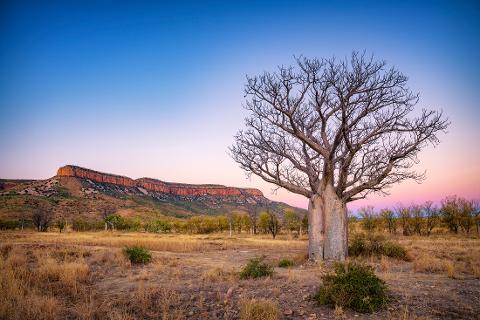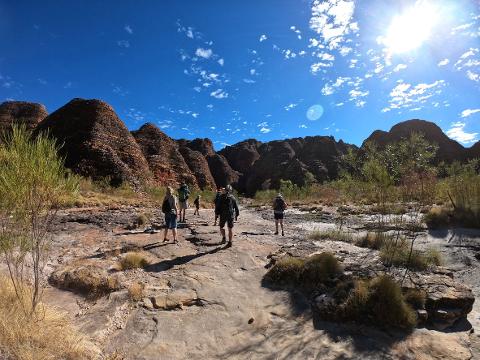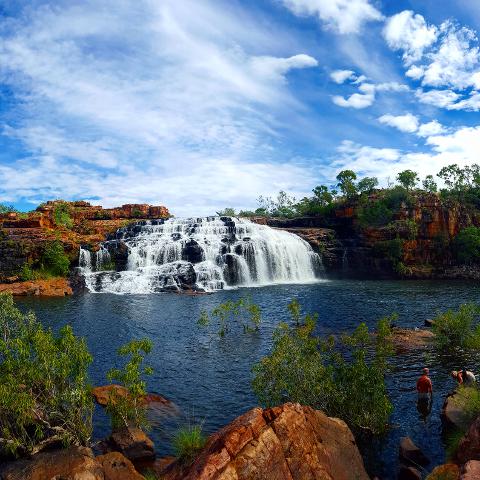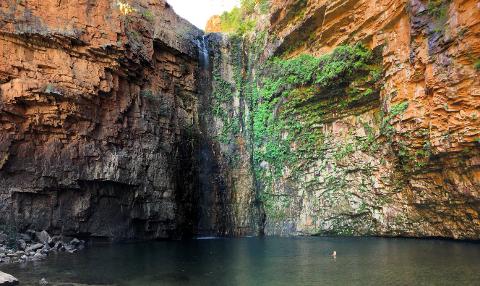 Duration: 8 Days
Location: Broome, WA
Product code: OHK8
This tour operates with a minimum group size of 4 guests, maximum of 8 guests and a mixed group departure. For private tours, 4-8 guests, please contact us directly to enquire about our private tour options.

Our 8 Day Kimberley Camping tour itinerary:

To start your Kimberley tour off, you will be collected from your accommodation in the morning by your tour guide. We take a short drive and enjoy breakfast and coffee before departing to Derby and visit the Boab Prison Tree which is estimated to be 1000 years old. Our next stop is an Aboriginal Art Gallery so you can peruse the exquisite pieces and learn about the traditional art history of this area.
Tunnel Creek is our next destination, which flows through a water worn tunnel beneath the limestone of the Napier Range. Tunnel Creek is part of the 350-375 million year old Devonian Reef, formed when most of the Kimberley was covered by the sea and gradually exposed as the sea level fell to its present level. Tunnel Creek was the hideout for Jandamarra (Pigeon) who led the Aboriginal resistance against the police and pastoralists until he was tracked down and killed by a police posse in 1897. We will walk 750 metres through the tunnel, wading through several permanent pools to the other side of Napier Range. Our next stop is Windjana Gorge, a stunning gorge cut through the Napier Range. This site holds special significance to the local Aboriginal people. The gorge is 3.5 km long and formed by the Lennard River as it winds its way through the Napier Range. There are primeval life forms fossilised within the gorge walls. Isolated pools in the 'dry' season, support an abundance of wildlife including freshwater crocodiles, water birds, corellas and a colony of fruit bats.
We will take a walk up the gorge and enjoy the late afternoon colours, before returning to camp and relaxing around the campfire.
Overnight: Windjana Gorge National Park (Silent Grove Overnight if Windjana remains closed for 2024)
Meals: Breakfast, Lunch, Dinner
After re-joining the Gibb River Road, we continue north to begin our hike of Bell Gorge. Eroded into the Wunaamin Miliwundi (previously King Leopold Range), Bell Gorge is one of the most impressive gorges in the Kimberley. Bell Creek cascades down through a series of falls and pools. There is time to enjoy a beautiful early morning swim to cool down before we continue. We then head towards Galvans Gorge for a short walk and swim before stopping at the Barnett River, our evening destination.
Overnight: Manning Gorge Camp Ground
Meals: Breakfast, Lunch, Dinner
A relaxing day with a hike out to Manning Falls for a swim, returning around lunch time. The afternoon is spent taking it easy along the banks of the Barnett River and camp.
Overnight: Manning Gorge Camp Ground
Meals: Breakfast, Lunch, Dinner
Day 4 - Mt Barnett to El Questro
Today is one of our biggest drive days (due to limited overnight options). We make our way back to re-join the Gibb River Road. One of our scheduled stops is to Ellenbrae Station to meet the wonderful hosts and indulge in afternoon tea. Along the way we will be presented with fabulous views of the Kimberley and Cockburn Range. Our journey continues along the Gibb River Road to our evening destination, El Questro Wilderness Park.

Overnight: El Questro Wilderness Park
Meals: Breakfast, Lunch, Dinner
Today we experience the beauty of El Questro Wilderness Park, firstly with a swim in the magnificent Thermal Pools of Zebedee Springs, followed by a 1.2km hike into Emma Gorge, in the heart of the Cockburn Ranges. Following the hike, we enjoy lunch before relaxing at the station, doing laundry or going for a short walk along the banks of the river.

Overnight: El Questro Wilderness Park
Meals: Breakfast, Lunch, Dinner
After breakfast, we travel into the World Heritage Listed Purnululu National Park (Bungle Bungles). The Bungle Bungle Range is renowned for its striking orange and grey horizontal banded domes. The distinctive beehive-shaped landforms have been produced by uplift and erosion over the last 20 million years.
Our evening will consist of a sunset viewing of the Bungle Bungle Ranges while enjoying a glass of Champagne, before returning to our evening campsite.
Overnight: Purnululu (Bungle Bungles)
Meals: Breakfast, Lunch, Dinner
After breakfast, we spend the day walking and exploring the magnificent beehive formations of this World Heritage Listed region. This will include hikes into Echidna Chasm, Cathedral Gorge and Piccaninny Creek Lookout. Up until 1982 the region was largely 'undiscovered'. Prior to 1982 only local Aboriginal people and a handful of stockmen knew of the area and in 1987 it became a National Park. An unforgettable helicopter flight over the Bungles is highly recommended and available at an extra cost.
Overnight: Purnululu (Bungle Bungles)
Meals: Breakfast, Lunch, Dinner
Day 8 - Purnululu to Kununurra
Following a leisurely breakfast, we depart for Kununurra, arriving at lunch. We explore Kununurra and surrounds, visiting the Hoochery Distillery and Sandalwood Factory during the afternoon. Depending on your return flight to either Broome or Darwin, we will bid farewell at the airport or drop you at your pre arranged accommodation. Alternatively, you can arrange additional days in Kununurra or locations such as Far Away Bay.
Overnight: Pre-arranged flight and accommodation
Meals: Breakfast, Lunch